This Sunday at Trinity
Sunday 30. April 2017 - 3rd Sunday of Easter
9:00 am Combined Service with Holy Communion
Special Guests: The Covenant Players will be leading the service
This Sunday at Our Saviour
Sunday 30. April 2017 - 3rd Sunday of Easter
11:00 am Worship Service
This Week on Messages of Hope (from Friday 13-04-2017)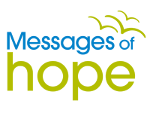 A Bloke Called Jesus
The story of Jesus Christ has been heard in almost every culture around the world. This Good Friday we'll retell the story in an Australian setting. In many ways the harshness and beauty of outback Australia is similar to Israel where the actual events took place. So join us as Jesus' close friend, John, retells the story amongst the stock routes and mining towns of the bush.
Tears In The Morning
Have you ever experienced tears of joy and sadness at the same time! Perhaps it's those milestones as your children grow up and become more independent. Or the wake after a funeral, as you remember the good times amongst the deep feelings of loss. How do you make sense of times like that? And where do you find the hope to keep moving forward. Join Richard Fox from Messages of Hope with David Altus this week, who have encouragement for those times that we feel lost in grief.
You can hear Messages of Hope this Good Friday at 3 pm and on Sunday at 11 am, Monday at 8 pm and Tuesday at 2 am across the Tablelands on 92.3 FM and ONLINE – your Christian Community radio station, broadcasting live from Mareeba.
Messages of Hope is also available online at www.facetoface.org.au