Cairns Lutheran Parish
Welcome to Cairns Lutheran Parish
Welcome to the online home of Cairns Lutheran Parish. On this site we would like to introduce you to our congregations at Trinity and Our Saviour Lutheran Churches and Peace Lutheran College, located in Cairns and the Atherton Tablelands of tropical north Queensland.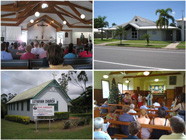 We are an active congregation who have recognised that
`We are called by God to shine the light of Christ,
by the power of the Holy Spirit, through His Word,
into the time and place God has placed us.'
Thank you for visiting. We pray that you'll find this site helpful.
Please return or maybe visit one of our welcoming congregations or college.
Sunday 26th May, 2013 – Trinity Sunday
8:00 am Traditional Service of the Word led by Pastor Vaughn Spring
10:00 am Contemporary Service of the Word led by Pastor Steve Maas
This Sunday at Our Saviour
Sunday 26th May, 2013 – Trinity Sunday
11:00 am Worship Service led by Pastor Noel Due
Cairns Lutheran Parish is currently in the process of testing the live broadcast of sermons from the 10 am Contemporary Worship Services of Trinity Lutheran Church, Cairns and to use these broadcasts (live or delayed) at Worship Services held at Our Saviour Lutheran Church, Atherton. We've chosen to trial the free livestream.com service, hosted on servers located in New York, USA. After a live broadcast event, recordings are hosted for viewing on the livestream.com server for another 28 days. To tune-in live or to view the recorded sermons on livestream.com you will need a personal account with livestream.com (also free, and sign-up using a facebook account is possible).
Recent and upcoming webcasts:
Sunday 19th May 2013 - can be found here (Comments: mistakenly posted under 5th May 2013; volume is much louder, some background noise which we'll try to fix during our next broadcast, minor transmission problems (some dropped frames) due to slower 3G modem... our new LTE modem is still in transit!)
Sunday 5th May 2013 - can be found here (Comments: unfortunately, audio volume is quite low)
This Week on Face to Face (from Sunday 19-05-2013)

Is Cleanliness Next To Godliness?
Have you ever heard of the saying, "Cleanliness is next to Godliness?" The phrase wasn't used to make us go and wash our hands but to inspire us to get our life in order. But is cleanliness really next to godliness? And what is godliness anyway? Join Richard Fox from Face to Face with this week's guest Noel Due who'll be talking about how our lives can really be clean.
You can hear Face to Face this Sunday at 3 pm across the Tablelands on 92.3 FM – your Christian Community radio station, broadcasting live from Mareeba.
Face to Face is also available online at www.facetoface.org.au