Cairns Lutheran Parish Webcasts
On Sunday 5th May 2013 Cairns Lutheran Parish began the live broadcast of sermons from our 10 am Contemporary Worship Services of Trinity Lutheran Church, Cairns. The original intention was to use these broadcasts (live or delayed) to aid Worship Services held at Our Saviour Lutheran Church, Atherton. This ministry however has gone beyond Cairns and Atherton with reports of people tuning in from all over Australia and around the world. We pray that if you find this page and tune into our broadcasts, its message may be a blessing to you.
We've chosen to trial the free livestream.com service, hosted on servers located in New York, USA. After a live broadcast event, recordings are hosted for viewing on the livestream.com server for another 28 days. To tune-in live or to view the recorded sermons on livestream.com you may need a personal account with livestream.com (also free, and sign-up using a facebook account is possible).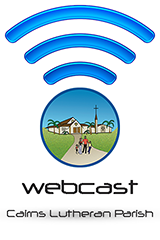 Recent and upcoming webcasts:
Will be posted on this website.
Available on request:
Local recordings of streamed services are available from our archive. Please contact us.