Joy to the World, Cairns Community Carols 2022
Joy to the World, Cairns Community Carols 2022
Tune in to the LIVE simulcast of the Joy to the World, Cairns Community Carols 2022 from the Cairns Showgrounds.
The audio broadcast on 92.3 FM... across the Tablelands and online will start before the YouTube video livestream. Hear from some of the presenters, the organising team, and keep informed of the pre-pre-show action.
5:00 pm Gates Open * 5:30 PM Pre Show * 6:30 pm Carols
Free tickets are still available here.
This Sunday at Trinity (Cairns)
Sunday 4. December 2022 - 2nd Sunday of Advent
9:00 am Combined Service with Holy Communion
This Sunday at Our Saviour (Atherton)
Sunday 4. December 2022 - 2nd Sunday of Advent
11:00 am Worship Service
Podcast of Sermons
Simply click on any of the links above to start playing the selected sermon in a new window.
This podcast is also available on iTunes. To be notified of updates, simply subscribe to the iTunes podcast here.
This Week on Messages of Hope (from Sunday 6-11-2022)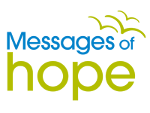 Alone
"I think that all of us move into and out of loneliness. Some people tragically find themselves all alone. None of us were meant for that." Loneliness isn't a feeling restricted to people who are single. It can affect anyone. Join Celia Fielke from Messages of Hope on this weeks program, talking with James Winderlich about how we can feel alone and unconnected, even when we're surrounded by people. But there is hope to feeling connected again.
You can hear Messages of Hope this Sunday at 11 am, Monday at 8 pm and Tuesday at 2 am across the Tablelands on 92.3 FM and ONLINE – your Christian Community radio station, broadcasting live from Mareeba.
Messages of Hope is also available online at www.messagesofhope.org.au