This Sunday at Trinity (Cairns)
Sunday 3. December 2023 - 1st Sunday of Advent
8:00 am Traditional Service with Holy Communion
This Sunday at Our Saviour (Atherton)
Sunday 3. December 2023 - 1st Sunday of Advent
11:00 am Worship Service
Podcast of Sermons
Simply click on any of the links above to start playing the selected sermon in a new window.
This podcast is also available on iTunes. To be notified of updates, simply subscribe to the iTunes podcast here.
This Week on Messages of Hope (from Sunday 20-08-2023)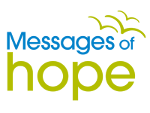 I Remember When
"Have you ever heard someone say, "I remember when...?" I remember standing by my grandpa while he drove the tractor on the farm. Whenever he'd tell me stories from the past he'd start with "I remember when." Years later his memories started to fade and I felt the relationship fading away too." Join Richard Fox from Messages of Hope this week as he talks about memories, and how to cope when they start to fade.
You can hear Messages of Hope this Sunday at 11 am, Monday at 8 pm and Tuesday at 2 am across the Tablelands on 92.3 FM and ONLINE – your Christian Community radio station, broadcasting live from Mareeba.
Messages of Hope is also available online at www.messagesofhope.org.au