Welcome
Worship Services at Cairns Lutheran Parish will resume from 5. July 2020.
Trinity Lutheran Church has subscribed to the Industry COVID Safe Plan for Places of Worship in Queensland. Social distancing, sanitising, registering on entry & exit and several other measures will be implemented at each service.
If you are feeling unwell, please stay at home and continue to use our other options for worship.
We will endeavour to live stream both 8 am and 10 am worship services, and also upload these services to our Facebook pages (and sermon podcast page) after the services have concluded.
NEW RESOURCE: YouTube Live Stream
Staying Connected:
Our Facebook pages in English and Tok Pisin now include streamed worship services and daily devotions.
Worship Services and Sermons:
Streamed worship services (including video) are first published on our Facebook pages, and shortly after, sermons are made available on our iTunes and locally hosted podcast pages. Please follow the links above to see which option works best on your computer, tablet or smartphone. We're more than happy to provide assistance as necessary.
Weekly Offerings:
Your weekly offering to support the ministry of Cairns Lutheran Parish can be made anonymously via:
Debit or Credit Card through the LLL payment portal here
Cash deposit slips for Westpac and National banks
Please consider to continue supporting your local church at this time.
This Sunday at Trinity (Cairns)
Sunday 16. August 2020 - 11th Sunday after Pentecost
8:00 am Traditional Service with Holy Communion
10:00 am Contemporary Service with Holy Communion
This Sunday at Our Saviour (Atherton)
Sunday 16. August 2020 - 11th Sunday after Pentecost
11:00 am Worship Service
Podcast of Sermons
Simply click on any of the links above to start playing the selected sermon in a new window.
This podcast is also available on iTunes. To be notified of updates, simply subscribe to the iTunes podcast here.
This Week on Messages of Hope (from Sunday 31-05-2020)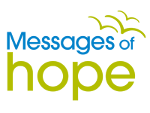 Fear To Hope
"I was just completely cut off. My marriage ended, my friends didn't want anything to do with me. I had to start again with nothing. It's unknown and the unknown is what fear lives from." Join Celia Fielke from Messages of Hope with this week's guest Rachel, who has experienced plenty of unknowns, isolation and lost connections. Tune in this week to hear how she found strength to face the unknown.
You can hear Messages of Hope this Sunday at 11 am, Monday at 8 pm and Tuesday at 2 am across the Tablelands on 92.3 FM and ONLINE – your Christian Community radio station, broadcasting live from Mareeba.
Messages of Hope is also available online at www.messagesofhope.org.au