This Sunday at Trinity (Cairns)
Sunday 28. May 2023 - Pentecost Sunday
8:00 am Traditional Service of the Word
This Sunday at Our Saviour (Atherton)
Sunday 28. May 2023 - Pentecost Sunday
11:00 am Service with Holy Communion
This Sunday at Peace Lutheran College
Sunday 28. May 2023 - Pentecost Sunday
9:30 am Contemporary Service with Holy Communion
Podcast of Sermons
Simply click on any of the links above to start playing the selected sermon in a new window.
This podcast is also available on iTunes. To be notified of updates, simply subscribe to the iTunes podcast here.
This Week on Messages of Hope (from Sunday 2-04-2023)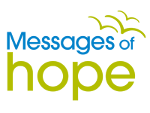 Is Jesus Real?
"I have a true story of a young lad hearing the Christmas story for the first time. And he said to his teacher, Miss why would Mary call her son after a swear word?" "For me I guess Jesus was almost a fairytale, like Goldilocks and the three bears. It was this concept of a person." Join Richard Fox on Messages of Hope this week, with Celia and Noel for a conversation about Jesus. Is he more than just a swear word or a made up story? How do we know if he is real?
You can hear Messages of Hope this Sunday at 11 am, Monday at 8 pm and Tuesday at 2 am across the Tablelands on 92.3 FM and ONLINE – your Christian Community radio station, broadcasting live from Mareeba.
Messages of Hope is also available online at www.messagesofhope.org.au