This Sunday at Trinity (Cairns)
Sunday 19. March 2023 - 4th Sunday in Lent
8:00 am Traditional Service with Holy Communion
10:00 am Contemporary Service with Holy Communion
This Sunday at Our Saviour (Atherton)
Sunday 19. March 2023 - 4th Sunday in Lent
11:00 am Worship Service
Podcast of Sermons
Simply click on any of the links above to start playing the selected sermon in a new window.
This podcast is also available on iTunes. To be notified of updates, simply subscribe to the iTunes podcast here.
This Week on Messages of Hope (from Sunday 8-01-2023)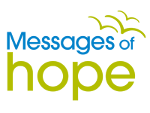 Are You Afraid?
"The fear index is very high, it's just this constant drum beat in our subconscious telling us to be frightened." How can we face our fears and anxiety? Is there any way to stop it from paralyzing our lives? And can we find peace? Join Richard Fox from Messages of Hope this week to hear a conversation about fear with Noel, Celia and Richard.
You can hear Messages of Hope this Sunday at 11 am, Monday at 8 pm and Tuesday at 2 am across the Tablelands on 92.3 FM and ONLINE – your Christian Community radio station, broadcasting live from Mareeba.
Messages of Hope is also available online at www.messagesofhope.org.au