COVID-19 Update
With regards to the recent COVID-19 regulations of the Federal Government, there will be no worship services held throughout the Parish at this time.
Please check back later for updates, and with information about online streamed messages from our Parish.
This Sunday at Trinity (Cairns)
Sunday 5. April 2020 - Palm Sunday
This Sunday at Our Saviour (Atherton)
Sunday 5. April 2020 - Palm Sunday
This Week on Messages of Hope (from Sunday 16-02-2020)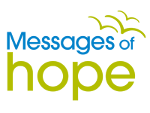 A Farmer's Life
Many farmers around Australia are experiencing a tough time because of drought. Even with all the best risk management and forward planning, we still can't control the weather. You may not be a farmer but we all have things we can't control. Losing a job, poor health, a death in the family. This week on Messages of Hope we're talking with Tim, a farmer from the Mallee of South Australia. In times of drought where does he find hope?
You can hear Messages of Hope this Sunday at 11 am, Monday at 8 pm and Tuesday at 2 am across the Tablelands on 92.3 FM and ONLINE – your Christian Community radio station, broadcasting live from Mareeba.
Messages of Hope is also available online at www.messagesofhope.org.au