This Sunday at Trinity (Cairns)
Sunday 2. October 2022 - 17th Sunday after Pentecost
8:00 am Traditional Service with Holy Communion
10:00 am Contemporary Service with Holy Communion
This Sunday at Our Saviour (Atherton)
Sunday 2. October 2022 - 17th Sunday after Pentecost
11:00 am Worship Service
Podcast of Sermons
Simply click on any of the links above to start playing the selected sermon in a new window.
This podcast is also available on iTunes. To be notified of updates, simply subscribe to the iTunes podcast here.
This Week on Messages of Hope (from Sunday 14-08-2022)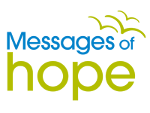 Anxiety
The term anxiety covers a lot of fearful conditions. Things like phobias and obsessive compulsive disorders. A certain amount of nervous energy and fear is actually healthy and quite normal. But when those feelings take over and rule our life we've got a problem. Join Richard Fox from Messages of Hope this week who'll be talking with Steve and Jenny who have struggled with anxiety and Julie, a psychologist. You'll gain understanding about anxiety and find hope for managing it.
You can hear Messages of Hope this Sunday at 11 am, Monday at 8 pm and Tuesday at 2 am across the Tablelands on 92.3 FM and ONLINE – your Christian Community radio station, broadcasting live from Mareeba.
Messages of Hope is also available online at www.messagesofhope.org.au