This Sunday at Trinity (Cairns)
Sunday 29. May 2022 - 7th Sunday of Easter
9:00 am Combined Service with Holy Communion
30/60 Anniversary Celebration
This Sunday at Our Saviour (Atherton)
Sunday 29. May 2022 - 7th Sunday of Easter
5:00 pm Evening Devotion
Podcast of Sermons
Simply click on any of the links above to start playing the selected sermon in a new window.
This podcast is also available on iTunes. To be notified of updates, simply subscribe to the iTunes podcast here.
This Week on Messages of Hope (from Sunday 17-04-2022)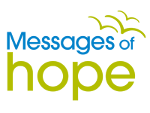 Easter - A Time Of Hope
"I have experienced the destruction from bushfires first hand, and listened to many stories of people going through all sorts of terrible things. Bushfires, drought, floods and the global pandemic, have made it a difficult start to 2020. But in the Easter story there is hope for us all." Join Richard Fox from Messages of Hope this week as they'll talk about finding hope from hopelessness.
You can hear Messages of Hope this Sunday at 11 am, Monday at 8 pm and Tuesday at 2 am across the Tablelands on 92.3 FM and ONLINE – your Christian Community radio station, broadcasting live from Mareeba.
Messages of Hope is also available online at www.messagesofhope.org.au