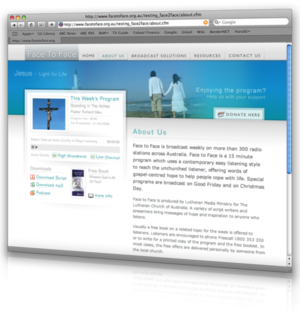 The Face to Face radio program is broadcast weekly from over 300 radio stations across Australia and New Zealand.
Produced by Lutheran Media Ministry of the Lutheran Church of Australian, Face to Face has brought the Gospel over airwaves to millions of Australians for more the 55 years, at one stage broadcasting from over 1,200 stations.
Check the current broadcast schedule, find a station near you or tune in online by following this link to the Face to Face website.
Face to Face is currently broadcast on the Vision Radio Network on Sunday's at 6 am and now also across the Tablelands on 92.3 FM on Sunday's at 3 pm.